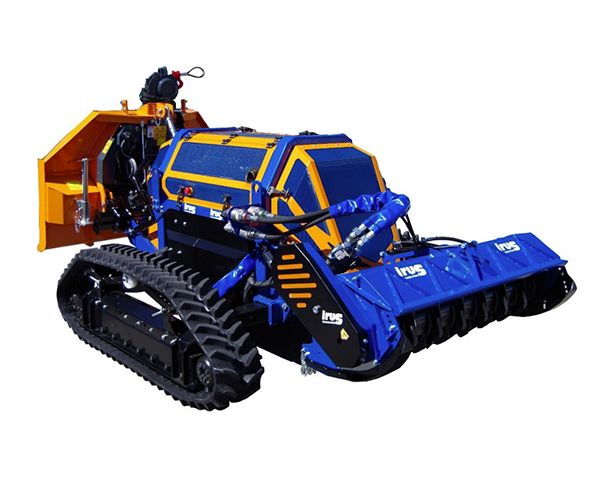 IRUS TWIN 75V2
Home > Irus Rc Tool Carriers > IRUS TWIN 75V2
engine:
Doosan 4-cylinder common-rail turbo diesel engine
Exhaust level: EU level V / EPA TIER 4 final 55 kW (75 HP)
Water-cooled, electric starter, operating hours counter, oil and temperature monitor
Continuous oil pressure monitoring on up to 80° incline (independent of direction of travel)
cleansing fan:
Automatic cleansing function for engine and hydraulic cooling (can also be activated manually)
power hydraulics:
120 liters/min at max. 350 bar
Power drive:
Hydraulic crawler running gear with direct drive.
Proportional speed control of each crawler running gear via remote control, both forward and reverse.
Adjustment of running gears via rotary potentiometer on the hand-held transmitter (facilitates working on steep inclines).
speeds:
Forward: 0 - 10 km/h | Reverse: 0 - 10 km/h Maximum speed is continuously adjustable via rotary potentiometer on the hand-held transmitter
Crawler running gear: Double-delta running gear with automatic hydraulic track tensioning (for optimal, even track tension at all times) Track replacement requires no tools Various track versions (depending on requirement) Standard height-adjustable chassis (for increased terrain clearance up to 300 mm)
track width:
Standard 1350 mm
Optional hydraulic track width adjustment: Adjustable from 1350 – 1850 mm /2250mm
Max. slope incline (depending on subsoil): Up to 60° with applicable equipment
wireless range:
200 m (line of sight)
standard functions:
Driving / steering (continuously variable, proportional)
Engine start / stop
Continuously variable control of engine speed
Continuously variable control of speed and rotary direction of mounted implement
Horn
Mirroring of power drive control
Raising of mounted implement
features: Filled with fast biodegradable hydraulic oil PANOLIN® HLP SYNTH
Optional functions/ Accessories:
KAT three-point linkage
Triangle hitches
Tilt sensor
Warning light
Rotating beacon
Automatic extinguishing system
Various crawler tracks
Spikes / rubber transport blocks
Work lights
dimensions (length x width x height):
2200 x 1400 – 1900 x 1150 – 1250 mm (with two mounting points)
weight:
1400 kg - 1500 kg (depending on features, basic machine without mounted implement).
External Links: