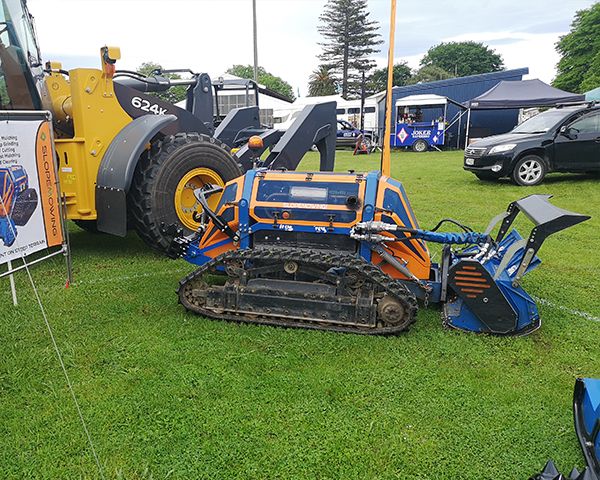 IRUS Twin Ex Demo
Home > Secondhand Machines > IRUS Twin Ex Demo
Year/Hour
2018/ 750
Engine
KUBOTA 4-cylinder diesel engine
42 kW (58 PS)
2.6 liter displacement
Water-cooled, electric start, operating hour counter, oil and temperature control
Cleaning fan
Cleaning function for engine and hydraulic cooling
Implement (attachment) drive
High-performance hydraulic system with UHP axial piston variable displacement pumps
350 bar, 80l/min
Drive
Hydraulic crawler running gear with direct drive, proportional speed control for each crawler running gear via radio control, both forward and in reverse, slope adjustment.
Speeds
Forward: 0 – 10 km/h
Reverse: 0 – 10 km/h
Maximum speed continuously adjustable via rotary potentiometer on the hand-held transmitter.
Track width
1300 mm – 1800 mm
Ground clearance
200 mm, variable to 300 mm
Max. slope gradient (depending on surface)
Up to 60° with special equipment ( suitable crawler chains, spikes etc).
Radio range
approx. 200 m (visibility range)
Standard functions
Driving / steering (continuously adjustable, proportional)
Engine start / engine stop
Continuously adjustable control of the engine speed
Continuously adjustable control of rotational speed and direction of rotation of the power take-off
Horn
Mirroring of the drive control
Lifting of the implement
Circumferential light
Standard features
2 double-acting hydraulic connections
Second implement mounting interfaces CAT I /CAT II
Weight
1150 kg - 1400 kg (depending on equipment, basic machine, without auxiliary device)
Attachments Whole range of different new and used attachments available